Interscholastic Equestrian Association: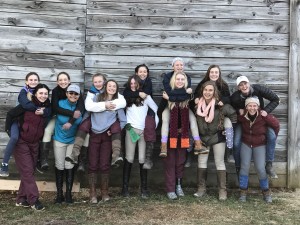 The mission of IEA is to introduce students, ages 11 thru 19, to equestrian sports, develop an understanding and appreciation of equestrian sports thru organized student competitions with an emphasis on learning, sportsmanship and fun. The unique aspect of these competitions both at the local and national level, is that none of the riders will supply their own horses or tack. Instead, the horses, saddle and other tack are all provided to the students at the show. IEA students may have the opportunity to earn scholarships toward their college education. The IEA is an affiliate of the United States Equestrian Federation, the United States Hunter Jumper Association and the Intercollegiate Horse Show Association.
The Clear View Farm IEA Team is finishing its fourth year. We have 16 members who enjoy great comradery showing, learning and riding together. The team is very competitive and wins often including going to Nationals 2 years in a row.
2018-19 IEA Kick-off Meeting and Swim Party – Saturday June 9th, 2018 1:00-2:30.  This year will be doing a cook-out and a swim party! Dawn Gutowski will be hosting!  Thank you Gutowski Family! Bring a side to share, Hot Dogs, Hamburgers, and drinks will be provided. RSVP by May 1st to Emily van de Merwe at vandemerwe.emily@gmail.com or 864-559-2472.
IEA Clinic and Horse Show:   August 8-11th, 2018 for Clinic. Clear View Farm's will be holding its annual IEA clinic week.  The purpose of the clinic is to prepare riders for showing IEA.  Jeanne Smith will be teaching "From the Judge's Perspective"  giving all participants a critique of their riding.  The week ends in the participant applying everything learned at the Carolina Schooling Show on August 11th.   Lunch and drinks will be provided at the farm during the clinic days.  Please contact Emily van de Merwe (864) 559-2472 or email at vandemerwe.emily@gmail.com.    
A big congratulations for our 20170-18 IEA Team on a very successful show year!  This past year has been an exciting year, not only did we grow the team but we had several riders individually qualify for Regionals! Wishing our IEA riders Luck on Feb 17th at Region 4 finals!  
Please call 864-616-0033 for boarding and training rates.